FREE BOTTLE WITH YOUR ORDER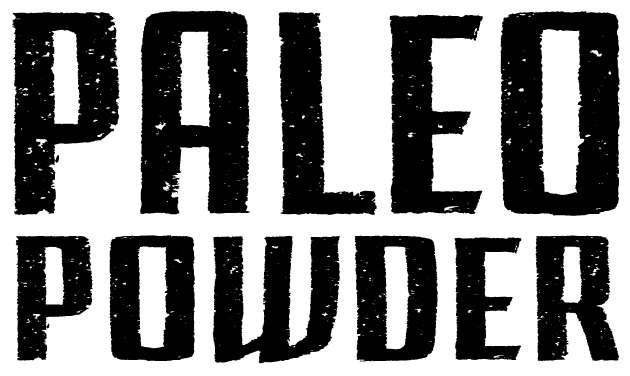 Welcome to Paleo Powder Seasonings!
Thanks for letting us flavor your health and add some spice to your life.

We're offering this special deal just for the PaleoHacks family!
Purchase a Paleo Powder Lifestyle Four Pack and get a bottle of Paleo Powder Original to share with a friend.
Get your FREE bottle of our no MSG, no gluten, no sugar, NO JUNK, Paleo Certified, Whole30 Approved, all purpose Paleo Powder Original seasoning blend with the purchase of a Lifestyle Four Pack.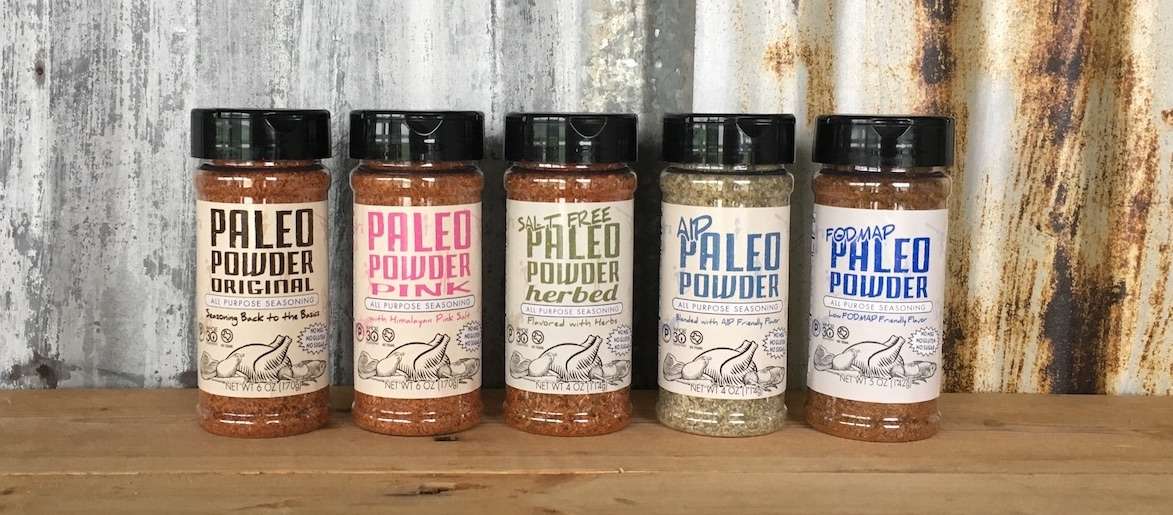 Paleo Powder offers healthy, junk-free all purpose seasoning blends formulated for specific lifestyle needs and preferences. PALEO POWDER is the original Paleo friendly all purpose seasoning without the disruptive additives found in many blends.

Try Paleo Powder on meat, vegetables, eggs or use it in any recipe to enhance the flavor of all your dishes - breakfast, lunch and dinner.

Besides the amazing flavor, what makes Paleo Powder different from other seasoning blends?
NO MSG
NO GLUTEN
NO SUGAR
NO ANTI-CAKING AGENTS
NO ADDITIVES
NO ARTIFICIAL COLORS
NON-IRRADIATED
PALEO CERTIFIED
WHOLE30 APPROVED
Get Your Four Pack PLUS a FREE Bottle of Paleo Powder Original All Purpose Seasoning
It's time to add some healthy flavor to your meals with Paleo Powder.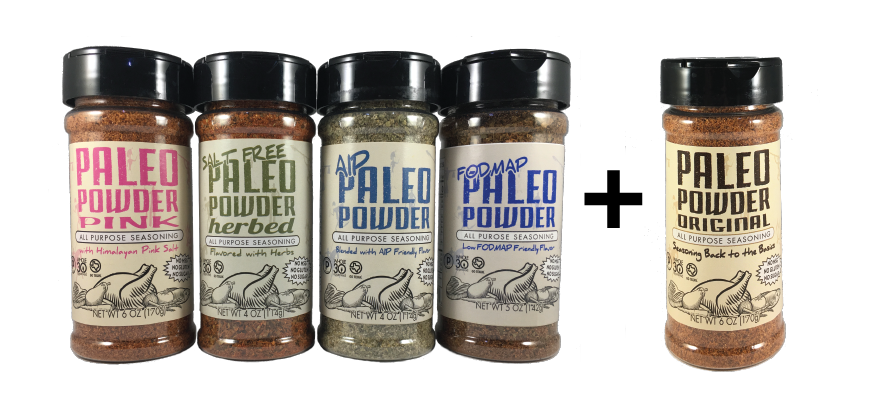 The Paleo Powder Lifestyle Four Pack includes one Paleo Powder Pink (6oz), one Paleo Powder Herbed Salt Free (4oz), one Paleo Powder AIP (4oz) and one Paleo Powder FODMAP (5oz). And, with your order you'll receive a 6oz bottle of Paleo Powder Original at no additional cost.
PALEO POWDER PINK - versatile all purpose blend with Himalayan Pink Salt
PALEO POWDER HERBED SALT FREE - a salt-free all purpose blend with a herby profile
PALEO AIP - compatible with dietary guidelines for those with autoimmune disease (no gut irritants, here!)
PALEO POWDER FODMAP - compatible with dietary guidelines for Irritable Bowel Syndrome (IBS) or other functional gastrointestinal disorders